Part Two: Water Play
by Susanne Grinham

You can't beat water play in the garden when the sun is shining. So simple to set up yet children will happily play for hours with it.
A tuff tray filled with water and a plastic tea-set, bowls & pipettes can be enough for a very quick tray. Or you could use bubbly water and put in some plastic dolls/figures/cars plus some face-cloths & sponges and ask the children to wash the toys. Attach a tub to your tray with some toothbrushes in so they can brush the toy's teeth too - this provides a good chance to practice & discuss self-care, as well as being fun!


Children can make their own boats to sail using origami or by tying two corks together and adding a paper & cocktail stick sail. Decorating them makes this more of a craft project & also means they can identify their own boat once in the tray. Give them a paper straw to blow their vessel through an obstacle course or to race them over the finish line!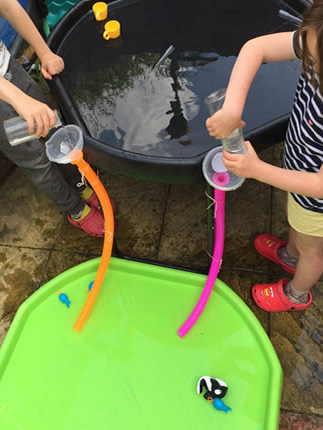 Or how about a water run. It cost less than £3 for these two tubes (from Home Bargains) and the funnels. Tie them onto your tuff tray stand legs and put a second tuff tray/washing up bowls/tubs underneath the tube/s to catch the water. Splashy sensory fun!
Susanne is mum to 8 year old Ollie and 5 year old Phoebe. She loves being creative with her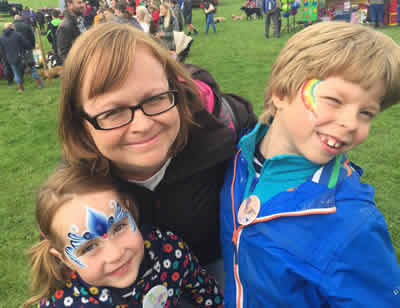 children and after many years of friends and family encouraging her to do "something more" with her ideas, she decided to start a blog Parties and Play Days. Although in it's early days this has lead to exciting opportunities already such as leading activities for 60 Reception children, writing guest blog posts and hosting activities at charity fairs.
Susanne is passionate about the importance of play and that children learn better when they are enjoying what they are doing. She is keen to show parents and carers that anyone can help children to flourish by sharing easy-to-follow and inexpensive craft, activity and party ideas.

For more information take a look at www.partiesandplaydays.com or you can follow Susanne on Facebook or Instagram.